THIS WEEK - BUY ONE, GET ONE for 20% OFF Fiber Art Kits, Holiday Ornaments, Garlands & Decor

Shop Now

Unique Gifts, Weaving, Spinning & Other Fiber Arts Supplies
THIS WEEK - BUY ONE, GET ONE for 20% OFF Fiber Art Kits, Holiday Ornaments, Garlands & Decor
Shop Now
Unique Gifts, Weaving, Spinning & Other Fiber Arts Supplies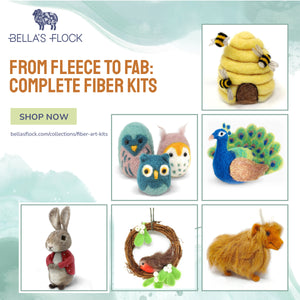 Discover the joy of creating beautiful fiber art works with our top-rated kits!
🌟Our customers are raving about their experiences:
"Perfect kit! includes everything needed.""
"First time needle felting. Wow! I love this!"
"Easy step-by-step directions. My project looked just like the photos. So happy!"
"Such a cute kit! We ordered three so I could make it with my daughter and my Mom! What a perfect activity for the whole family!"

Click below to browse all our kits!
BROWSE ALL FIBER ARTS KITS
Find Unique Gifts
Shop for unique handmade gifts, fun craft kits for adults & kids and a wide range of weaving, spinning and other fiber arts supplies. Free gift wrapping with personalized message!
Shop for Gifts
Classes
Fiber Friday Happy Hour
Join us every 2nd Friday between 4-7. Different projects each month. Learn more and register here (this event sells out quickly)

Create a Your Own Unique Gnome
This is a fun and easy needle felting class. Learn from expert artist Karen from I Felt It!
Everything you need to learn needle felting and create your own design. Great for beginners! Register Here
Wet Felted Bowl
Use soap, water, and friction to transform loose wool fibers into a reversible felted vessel of your own design. Taught by local fiber artist Angela Bengtson. Click below to register.
All Classes & Registration

SHOP- Find what you're looking for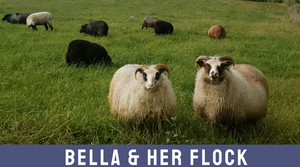 Bella's Flock
Bella is the leader of our flock of Icelandic sheep.
Our store and studio features a fun mix of unique gifts, supplies and equipment for weavers, spinners and other fiber arts.
We focus on supporting shepherds, makers and small mills in our local region. Our products are climate friendly, sustainable and created with love.
Bella's Flock
11 Division Street E
Suite 200
Buffalo, MN 55313
Phone / Text: 763-260-4700
Open
Thursday 11am-5pm
Friday 11am-5pm
Saturday 10am-5pm
contact